Oaxaca is a food city. From high-end restaurants to cramped, smoke-filled markets and late-night street carts, finding a bite to eat is never an issue. Whether your searching for roasted chicken in complex moles, to charcoal grilled beef, or sandwiches overflowing with greasy chorizo, you'll get your fix. It can almost be a little overwhelming in a city as great as this, where you've got so many options, but fear not, we'll help you out by sharing our picks for the best cheap eats in Oaxaca!
"Food has power. It could inspire, astonish, shock, excite, delight, and impress… It has the power to please me."Anthony Bourdain
Almost any market in or near Oaxaca will have food stalls open during the day, but probably the most well-known is Mercado 20 de Noviembre, located only a few blocks from the Zocalo.
Here you'll find a sampling of everything listed in this post, so if you're short on time, this would be the place to go. However, simply having the best choices doesn't necessarily mean the best quality. While there wasn't ever a bad meal had there, we've found much better elsewhere in Oaxaca.
Embrace the Street Food in Oaxaca
One thing I cannot stress enough is don't be scared of street food! Sure, while fancier restaurants with brigades of professional cooks can and do produce excellent results, you'll be paying for everything that comes along with it. Eating on the street is always cheaper and in many cases more authentic than what you'll find in a restaurant.
Yes, you will see meat hanging out in the open, un-refrigerated. Just trust the locals, if you see a street cart with a bunch of locals eating, you're usually fine. Without a doubt, the best cheap eats in Oaxaca are those found on the street.
So without wasting any more time, let's get to the good stuff.
The Best Food of Oaxaca
Memelas, Oaxaca Budget Breakfast Snack
Probably the simplest of snacks found around town, typically eaten earlier in the day. A thick, freshly made corn tortilla, topped with refried beans, cheese, and anything else you feel. Although our favourite is the basic, just beans and cheese, topped with whatever salsas are at hand.
A little note on the cheese. Typically (at least what we've encountered) this isn't the stringy quesillo or the soft, crumbled queso fresca; it's almost like a thick, salty cream. It's just thick enough to keep its shape, but still runny enough to act almost like a sauce. It's truly a thing of beauty.
Find it: We found these at restaurants and cafes all around Oaxaca city.
Pozole: Mexican Soup for the Soul
Think that chicken tortilla soup you get at your local chain restaurant is legitimate? Think again; pozole is the real deal. Although reminiscent of what might be familiar to you, it's so much more complex. Pozole begins with a very flavourful broth made with either chicken or pork and hominy and flavoured with different spices. The soup is then topped with shredded meat of your choice, fresh onions, radishes, cabbage, cilantro; served with crispy fried tortillas, fresh lime wedges, and whatever condiments and salsas are on hand.
If this doesn't bounce you back to life after an evening of mezcal indulgence, nothing will.
Find It: The best one we found was at Tacos Roy on the suggestion of a local. And while this is a restaurant with several locations, unlike chains in most countries the quality varies significantly from one to the next.
Our favourite without a doubt is this location on Calle Azucenas, but prepare to wait for a table during peak times.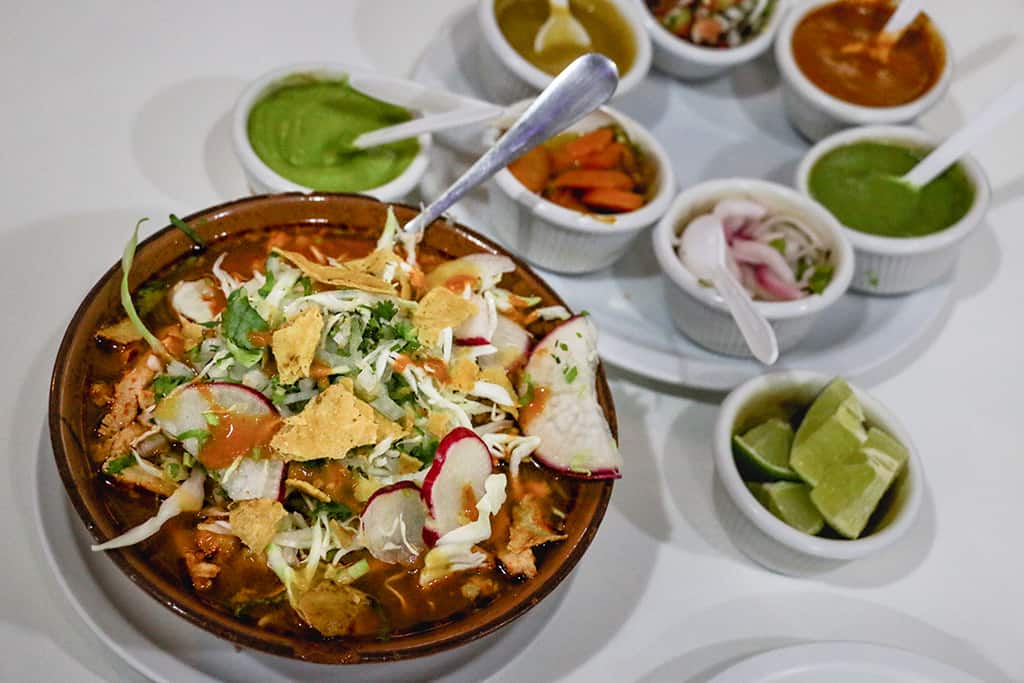 Mole in Oaxaca – Mysterious, Complicated and Delicious
Oaxaca is known for their mole, in fact along with Puebla to the north, this is where the dish was created. You'll find mole on every website describing Oaxacan food, and on nearly every menu of any restaurant in town. Though for those who like to do a little cooking for themselves, some of the best mole in Oaxaca can be found in concentrated pastes in the local markets!
Typically known for having a chocolate base such as mole negro, rojo and coloradito, there are also several other, lesser-known varieties. The remaining four styles from Oaxaca include Amarillo, Verde, Chichilo, and Manchamantal. These feature ingredients such as chorizo grease or beef stock, fruits, nuts and seeds, or chilis, herbs and spices. Whether using it as a base for a soup, stewing chicken, or as a sauce over rice; it's not only delicious but incredibly versatile.
Much like the curries of India, these are just the basic recipes. Every home, every restaurant, and every shop will have their own unique versions; so on the off-chance your first sampling of this incredible sauce doesn't quite grab you, be sure to give it a second (or third) chance. There are few foods I've tried with such incredible depth of flavour, with so many layers, each one more difficult to pick out from the next.
Find It: Restaurants across the city offer many different varieties at a full range of quality and cost. If you're able to cook for yourself, I suggest starting at a local market and picking up a few samples to decide what style you enjoy before spending too much money on experimentation at a restaurant.
Elote: Mexican Street Corn in a Cup
Almost everyone loves corn on the cob or at least corn in general, but it's gotta be slathered in butter, salt, and pepper. In Oaxaca, they're famous for their street corn, whether grilled or boiled, on the cob or sliced into a cup, you'll find it everywhere, but they don't waste their time on simplicities like butter and salt.
For ease of eating-while-walking, we usually opted for the cup; which was a layered masterpiece of heart-stopping goodness. Starting with a scoop of corn, then a big scoop of mayonnaise, and some crumbled queso fresco, crushed chilis, and lime juice. Repeat once or twice more, and you've got one of the best and – at around 10-15 pesos – cheapest corn dishes you'll ever have.
Keep in mind, this is mostly an evening snack. We first encountered it during the day when Dia de los Muertos was going on, but outside of the festival, it's only been at night.
Find It: During the evening you'll find vendors all across the centre of town.
What are Chapulines? Fried Crickets in Oaxaca
This is a tricky one, it's a bit of a mind-over-matter situation; chapulines – or roasted crickets – are found at every market and on roadside stalls all over town. We've eaten plenty of bugs in our past travels, but these ones were actually tasty.
It's not just a "watch the gringo eat the bugs" thing, the crickets are roasted with lime, salt and spices, giving them not only a crisp texture but a pretty decent flavour. They're treated almost as potato chips, a quick and inexpensive snack while out around town.
On the streets, you can either buy a small bag for a few pesos, or order them in a quesadilla. We opted for the bag, and made the quesadilla at home since we had the ingredients already. The taste is quite alright, nothing great or outstanding, but very decent and definitely worth trying. The mental game of eating bugs is the part that most people have an issue with, but as long as you can get past that, it's just food!
Find It: Mercado Benito Juarez near the Zocalo and at most open-air markets in the centre of town.
Tortas Mexicanas
Or simply Torta, this was probably my first food-love when we arrived in Oaxaca. Kylee somehow heard about this cart selling these incredible sandwiches, and we were completely blown away. We've tried several varieties from different restaurants, but our favourite is still La Hormiga Torta's cart near Jardín Conzati. Really, a torta is just any sandwich, but what makes these stand out is the combination of the perfect buns, rich fillings and the pickles.
You'll find torta carts and restaurants scattered all over town, and all contain relatively the same things: a spread – either mayo, refried beans, or both; cheese – either stringy quesillo or a crumbled queso fresco; eggs and/or meat – chorizo, cured ham, pork, beef or chicken. Other toppings may include avocado, tomatoes, or grilled onions and peppers. And always served with pickles: occasionally whole pickled jalapenos, but typically the onion-carrot-jalapeno mix you find everywhere.
Find It: La Hormiga Torta at Jardín Conzati is arguably the best in town. Though you'll find these at cheap restaurants all over Oaxaca.
If eating at the above mentioned cart, be sure to order the Cubano!
Tlayuda: a Oaxaca Specialty

One of our favourite things to grab while wandering through the many great Oaxaca markets. Quite simply, it's essentially a Mexican flatbread. A large tortilla grilled until almost crisp over charcoal, topped with refried beans, lard, stringy Oaxacan queso, cabbage or lettuce, sliced avocado, tomatoes, and meat of your choice.
Most often, you'll find these served open-faced, which are actually a little tricky to eat, as they are usually around 12-14 inches in diameter – trying to tear pieces of the crisp base usually results in quite the mess. Occasionally though, they're served folded in half; if it doesn't come folded, do yourself a favour and do it before anything else. You'll thank us later.
Find it: Our favourite was from a street cart on Calle Las Casas, near Benito Juarez Market. And like most stalls around town, you'll find a similar selection of salsas to tweak it to your liking, and you will get messy.
Some of the Best Tacos in Mexico
I mean come on. I think this goes without saying, we're in Mexico after all. Tacos are everywhere, and they're ridiculously good. They all start with the simple base of a warm, freshly made corn tortilla, and filled with – like many other dishes – your choice of meat. The meat selections vary between carts and restaurants, but most often you'll find grilled beef or pork. For the more adventurous type, you can also find other, more unique parts of the animal. Ear, tongue, and even cartilage are occasionally offered; if that's your thing.
While the options and combinations of flavours are seemingly infinite, after sampling a vast variety of types, we settled on simplicity. More often than not, the less complicated something is, the better the result. Warm tortillas, filled with seasoned beef and pork, topped with fresh onions, cilantro, and guacamole, with the addition of a few pickles and condiments. Few things in life are as good as that.
One style unique to Oaxaca and Central Mexico is Tacos al Pastor, which is spiced pork on a rotating spit. If you're familiar with seeing the spinning meat in a shawarma, donairs, or kebab shop, you know what I'm talking about. This is no coincidence, as this cooking style was brought to Mexico from Lebanese immigrants.
Find It: In both our humble opinions the best tacos in Oaxaca – probably the best we've ever eaten – are those found at Taquería El Torito Norteño, over on Heroica Escuela Naval Militar. The perfectly flavoured meats are good enough, but they've got this charred onion relish that we haven't found anywhere else, that just amplifies the charcoal flavour of the grilled meats. If you only eat tacos at one place, eat them here!
Condiments – Because Sauce is Awesome
Every restaurant or cart has their own different versions and selection of condiments. Now I'm not talking just a plain old jar of salsa, or that flavourless guacamole you buy in the grocery store. These are a kick to the face with flavour!
Just a few examples you'll find are: Pico de gallo, tomatillo salsa, pureed habanero and garlic sauce, and charred onions and jalapeños. Then there is chipotle puree, smooth and tangy guacamole, pickled red onions with habaneros… the list goes on. Just understand that depending on where you go, you're likely to find some version of the above-mentioned salsas so you can fine-tune your meal to your taste.
Keep Eating
The food scene in Oaxaca is one of the strongest I've ever encountered, and this is only a mere sampling of what the city has to offer. After five weeks we've barely scratched the surface and will be missing the wonderful cuisine immensely.
Whether you come to Oaxaca for the sights and find yourself enamoured with the food, or you come to Oaxaca with food as your purpose; you will not leave disheartened.
Related Articles
Like it? Pin it!