I'm going to be completely honest with you. Before arriving in Moldova, we knew almost nothing about the tiny country. Aside from hearing the name a handful of times, we hardly knew it existed. After having spent three weeks in the former Soviet republic, however, we're amazed at how alluring and foreign it feels. Though it might not have as much to offer as its neighbours, there are still many wonderful and unique things to do in Moldova.
What to Do in Chisinau – Moldova's Capital
Though some may claim Chisinau isn't worth your time, I tend to disagree. There are plenty of reasons to visit this somewhat forgotten capital. Most of the main sights are located close to the city centre, making getting around quite simple. Even if you're staying a little farther away, buses are frequent and cheap.
National History Museum
History museums don't often draw us in, though I'm not sure why. I guess our inner children assume hours of boredom. Clearly we're mistaken, as almost every time we do visit one, we're quite impressed. This time is no different.
Artifacts and fascinating displays depict Moldova through the centuries. I saw a little of everything, from medieval weapons and armour to Soviet propaganda. The full-room World War 2 diorama alone is worth the price of admission.
Regarding admission, the price is almost unbeatable. Adult entry AND photography pass cost me less than 30 lei ($3, 1.50 euro)!
Check their website for the latest exhibits.
Sample the Phenomenal Moldovan Food
The cuisine of Moldova can appear rather basic and simple upon first glance. Though for such a small country, it's actually quite complex. Moldovan food is an enticing fusion of elements from its closest neighbours. Romanian, Russian and Ukrainian flavours are present, yet the food it something of its own.
The best place to go for a decent sampling of Moldovan cuisine would be La Placinte. This prominent chain restaurant isn't fancy but offers a vast selection of Romanian and Moldovan meals at great prices. Another favourite of ours is a little place called Foisor. Crepes are the specialty in this flashy basement cafe. Stuffed with everything from chicken and cheese to salmon and caviar, everything we tried was outstanding. Although the menu is only in Russian and Romanian, there are pictures of almost everything.
Those great options aside, the absolute best restaurant we enjoyed while in Moldova isn't actually in Chisinau. It was at a small guesthouse in Orhei Vechi. More on that a little later…
Stephen the Great Park
Spend some time relaxing under the afternoon sun in Chisinau's central park. Grab a coffee and catch up on some work using the parks free wifi. Or kick back on a bench and take a break from the busy city around you.
Take a moment to appreciate the statue of Stephen the Great at the main entrance. The glorious former leader of Moldova, so beloved by his people, he's actually recognized nationally as a saint.
Wander through the trees, to the Alley of Classics, where distinguished Moldovans (and a few Romanians) are celebrated. Busts of literary greats, politicians and public figures throughout history are on displayed.
Milestii Mici: The Biggest Wine Cellar on Earth!
Wine is big in Moldova, in more ways than one. Not only is it one of the biggest industries, but the country is also home to the worlds largest wine cellar.
A little outside the city centre, about halfway to the airport, is Milestii Mici. This wonderful winery may appear modest at face value, but beneath the earth is the largest wine cellar on earth! With 200 kilometres of roadways tunnelling through the limestone caves, it's a small underground city. As well, Milestii Mici has a collection of over 2 million bottles!
Check out our post about touring Milestii Mici for more information!
The Triumphal Arch and Cathedral Park
Kitty-corner to the Stephen the Great monument is Cathedral Park. Here you'll find two of the most notable sights in Chisinau. The Triumphal Arch and the Church of Nativity.
The Triumphal Arch stands as an imposing gateway to the square. The forty-foot tall structure was built in the 1800s to commemorate the Russian victory over the invading Ottomans. Inside the arch is an enormous 6400 kg bell, cast from melted metal of Ottoman canons.
Cross into the centre of the square and you'll find the Church of Nativity. If you've never been in an orthodox cathedral before, this is a perfect spot for an introduction. Pop inside and note the vivid murals covering the walls and ceiling; the intricate gold accents and the unique open concept design. Even if you aren't a religious person, the building itself is worth a peek.
Invino Wine Bar
Ok, so maybe you're running out of time and weren't able to make it to all the wineries you wanted. Perhaps you did, and just want to indulge a little more. Either way, you can't miss stopping in at Invino.
Hidden up a flight of stairs between a mess of money exchangers and bars is possibly the best wine bar in Chisinau. Invino is located right in the heart of the city, across the street from Cathedral Park. They feature exclusively Moldovan wines and have over 250 bottles in-house at any given time. They also boast a collection of ten thousand bottles in their cellar!
The wines, sourced from 30 different local wineries, are carefully curated by a professional sommelier. Come in for a tasting or to imbibe in a glass or three of your favourite bottle. Invino is a great spot for lunch as well, with a simple but delicious menu of local snacks and charcuterie.
Wine & Walking Tour
Something we always try to do when arriving in a new city is hopping on a local walking tour. I can't think of a better way to familiarize yourself with new surroundings than a few hours with a local guide. These aren't just for first-timers either, the guides almost always have a few secrets to share that you're unlikely to stumble upon alone.
Though several walking tours exist in Chisinau, we went with one offered by Wine Tours Moldova. The winery tour they organized for us earlier in our visit was so well-done, we wanted to use them for more! Although they offer several styles of tours, ranging from art to food, their "wine walking tour" piqued our curiosity.
The walking tour aspect was fantastic and our guide, Nicolina, was wonderful. She had a ton of information and answered any questions we could throw at her. What really stands out about this tour though, is around the halfway point, we stopped for a tasting and quick snack at Invino. Any time a walking tour includes food and wine – we're in!
Short Day Trips from Chisinau
Hâncu Monastery & Vinaria Poiana
This is arguably the most beautiful monastery in all Moldova. The iconic, towering yellow cathedral is only one part of the greater complex. Stroll through the majestic flower gardens or drink from the natural underground spring.
Look, maybe making a journey to see a monastery isn't your cup of tea. That's why we paired this visit with a stop at a winery. Vinaria Poiana is a great spot with some fantastic wines and incredible views. Its crisp new facility has a chic dining room where you can stop for lunch and a wine tasting. Pop in here either on your way to the monastery or the way back into Chisinau – or both.
Note: In Moldova, religion is taken quite seriously, especially in the Orthodox realm. Remember to always dress conservatively when visiting churches and monasteries. Women will often be asked to cover their heads.
Get here: As these are both in fairly remote areas, the best way to get here is to hire a driver or rent your own vehicle. From Chisinau, it's a quick and simple drive.
Drink More Moldovan Wine
As you've noticed, wine is a fairly common theme in this posts. Sure, maybe we're a little biased as wine-lovers. But the truth is, Moldova is all about wine. With dozens of wineries spread across the country, your biggest issue will be deciding which ones to visit.
Whether you're a traveller who has never given wine much thought, or a fanatic whose sole purpose for visiting is wine, you'll find your fix. In-depth tours and tastings for all curiosity levels are available at wineries all over Moldova. Check our Moldovan wine article for more information.
Orhei Vechi
This has to be one of the most incredible places we visited in Moldova. Archaeological excavations here have discovered artifacts dating back over 2000 years. Preserved in its current state for the historical value, it's now somewhat of a living museum.
The real star of Orhei Vechi is the monastery built into the caves above the village. There are actually two parts to this complex. On the top of the hill is the recently built Ascension of St. Mary Church, which is stunning in its own right. However, down the hill beneath the bell tower is where you'll find the ancient cave monastery.
Head down the steps into the dark, candle-lit main room. Speak to the friendly monks inside, they're often just as curious to meet you as you are them. From here either head further down into the former monk's quarters or outside to the cliff face overlooking the valley. But watch your step, this isn't Disneyland, don't expect any guardrails to protect you.
There are a few accommodation options if you want to spend a night or two, but these are quite popular and fill up quickly so be sure to book ahead. Pensiunea Butuceni one option, and although we didn't stay here, we did eat. And it was easily the best traditional meal we enjoyed during our time in Moldova!
Note: There is a visitor centre before entering the village itself, there is a small fee to visit and the option to hire a guide.
Get here: If you don't have your own wheels, head to the central bus station in Chisinau and grab the marshrutka (minibus) marked Butuceni and get off at the final stop. Alternatively, you can grab the bus to Trebujeni, which is roughly 30 minutes walking from Orhei Vechi. Bus times vary, so it's worth checking the station ahead of time or asking at your accommodation.
Transnistria – The Country that Doesn't Exist
Transwhatnow? Officially the Pridnestrovian Moldovan Republic, this separatist country isn't recognized by the international community. And while their government, military, police, national flag and currency might suggest otherwise, Transnistria as a country doesn't exist.
Step into the last bastion of the Soviet Empire in Tiraspol, the capital of Transnistria, and wander the streets under the watchful eye of Vladimir Lenin. Sample some of the highest quality brandy in the world and pick up some sustainably sourced caviar at bargain prices.
These days Transnistria is easier to visit than ever. Check out our earlier post for more information on how to get to and what to do in Transnistria!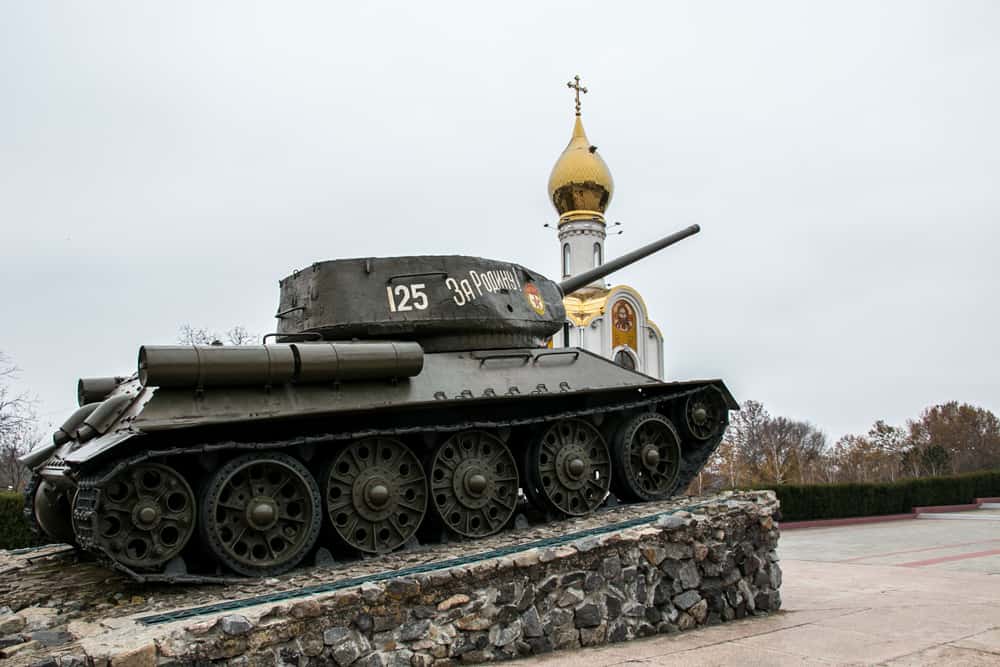 Like It? Pin It!