Following five months in Central America, we'd grown quite accustomed to the vibrant colours and beautiful street art in the region. As a result, we had a general idea of what to expect upon arriving in Colombia. A couple of friends had visited only a few short weeks prior to our entry into the country, and passed on a few tips on where to check out some of the best art.

All of that said, we couldn't have been more unprepared for the level of artwork we would encounter.
We've been fans of quality graffiti for many years, but our exposure has been limited to the odd wall on a handful of cities. It wasn't until our early visits to London a few years back that we saw any significant amount in a concentrated area.
Colombia, specifically Medellin and Bogota, are on a completely new level to anything we've seen in the past. The scene in Bogota is so prolific, there are entire tours dedicated to the graffiti scene.
But if you're not in Colombia or just haven't yet been exposed to the scene, here is a sampling of some of our favourite street art from around the colourful country.
Let Us Begin our Graffiti Tour of Colombia in Photos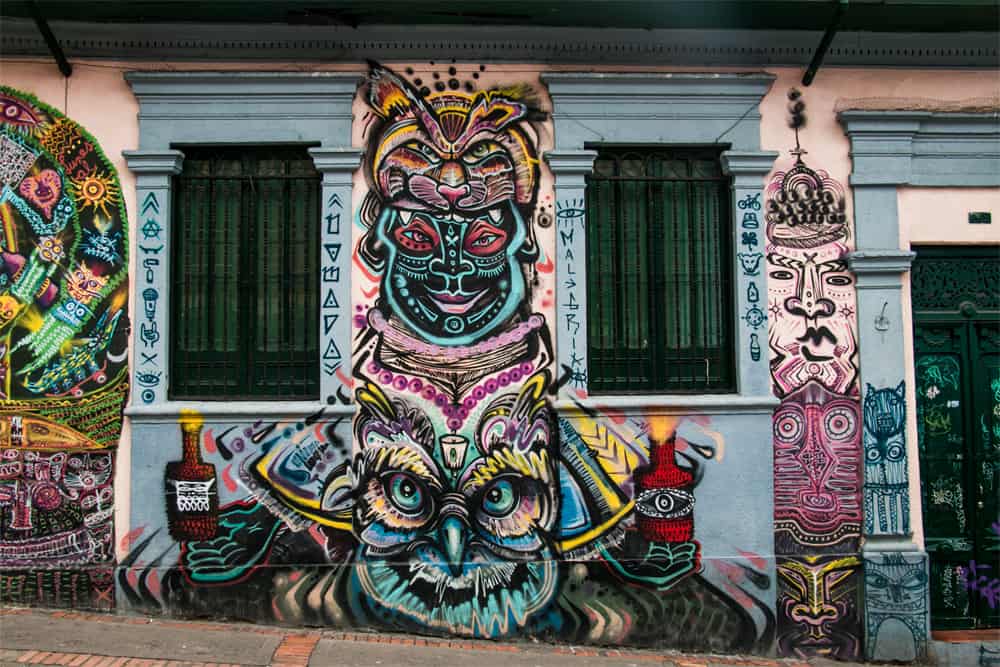 Intricate Colours – La Candelaria, Bogota
This is one of the first pieces we encountered while taking the Bogota Graffiti Tour. I love this one out of the sheer intricacy in the design. There is just so much going on. From the centrepiece inspired by the natives and traditional culture in the region, to cryptic runes and modern hieroglyphs, it's a wall I could stare at for hours.
Jellyfish – Santa Marta
Sometimes they're relatively simple, like this jellyfish we found while exploring Santa Marta. I love this one because even though it appears quite basic on first glance, the layering of colours and shading creates a lot of depth.
Much Needed Colour – Medellin
A significant portion of the construction in larger cities like Medellin and Bogota are these standard bricks. Aside from the newer skyscrapers that have appeared in recent years, much of the skyline is this orange-red hue. This piece stands out so vividly against the rather bland background and is a much welcomed sight.
Two Boys – San Javier, Medellin
One of the older pieces in Medellin's notorious Comuna 13, this is one of many works that represent hope for the youth of the troubled neighbourhood. Thankfully, many of the kids in this area are beginning to turn to music and art, rather than gangs and violence.
The Cat Wall – La Candelaria, Bogota
Though it might just be a random collection of famous and unrecognizable cats, done by different artists, there's one small point that sets this apart. It's a little difficult to see from this photo, as it was taken from the right location, but note the pole covering the right side of the black cat's face. Standing in any other spot, the face will be distorted, but from this location, the painted post matches the background almost seamlessly.
Unfortunately, on our most recent visit, we saw that the city officials have painted over the power pole. Although the famous cat mural remains in tact, the wonderful illusion is no more.
Van Bogh – La Candelaria, Bogota
Just like in Medellin, much of the older areas of town feature bland and emotionless colours in their design. This only works to the benefit of artists. With such dull backgrounds, works like this Van Gogh-esque painting explode with life.
Explosion of Colour – San Javier, Medellin
While it's difficult to narrow down a favourite individual piece, this entire wall is possibly my favourite collection in the country – definitely in Medellin. This retaining wall runs along the pedestrian street that cuts through Comuna 13 for roughly a kilometre. You'd be hard-pressed to find a colourless spot along the entire stretch.

Green Monkey – Getsemani, Cartagena
Although this isn't as unique or interesting as some of the others, I'm still a fan. While Santa Marta had a few nice pieces around town, it wasn't until arriving in Cartagena that I saw colours that really popped. This was the first one that grabbed my attention.
Abuela – Getsemani, Cartagena
I really enjoy these smaller pieces found all around the Old City in Cartagena. Not to be confused with the 'Walled City' a few blocks away, the Getsemani's walls are far from manicured. Often in a crumbled state of disrepair, there are limited spaces for a smooth canvas. Thankfully, that doesn't stop local artists from taking advantage of what space they have.
Peace and Hope – San Javier, Medellin
A recurring theme in San Javier, also known as Comuna 13, of peace and hope. A celebration of the relative peace the barrio has seen in recent years, for the first time in decades; and hope for a better future for the next generation. This mural here is the first to greet you upon arrival in the neighbourhood.
Stairs in the Park – La Candelaria, Bogota
This is my favourite display in all of Bogota, possibly the best I've ever seen. Nearly every square inch of paintable canvas is covered with brilliant, colourful artwork. This is the perfect example of how a simple photo cannot do justice. This entire park, to the right and left of this image, including the benches and a half-pipe, are equally as impressive as the stairs.
Like It? Pin It!