In the far reaches of Eastern Europe, on the edge of Moldova, is Transnistria – a country that doesn't exist. This peculiar destination, where the hammer and sickle still reigns supreme, gives visitors a glimpse into the past. While in Moldova recently, I decided to travel to Transnistria for a day and experience this mysterious land for myself.
The Pridnestrian Moldovian Republic
Transnistria is officially called the Pridnestrian Moldavian Republic. It's a tiny strip of land wedged between the Dniester River in Moldova, and the Ukranian border. The region was initially established when the Soviet Union was dissolving back in 1990. Moldova had regained its independence, but the primarily Russian-speaking region of the east wanted to remain with the Soviets.
When neither Moscow or the government of Moldova recognized this separatist state, civil war broke out. During the two-year conflict, roughly 1000 lives were lost. However, when compared to other related conflicts of the early 1990s, this conflict was relatively peaceful. Although the war itself has not technically ended, a ceasefire was agreed upon in 1992 and has held since.
While not officially recognized by the international community, Transnistria holds it's own police force, army, government and currency. Seeing how close we were to this alluring place, I couldn't resist the urge to see it in person.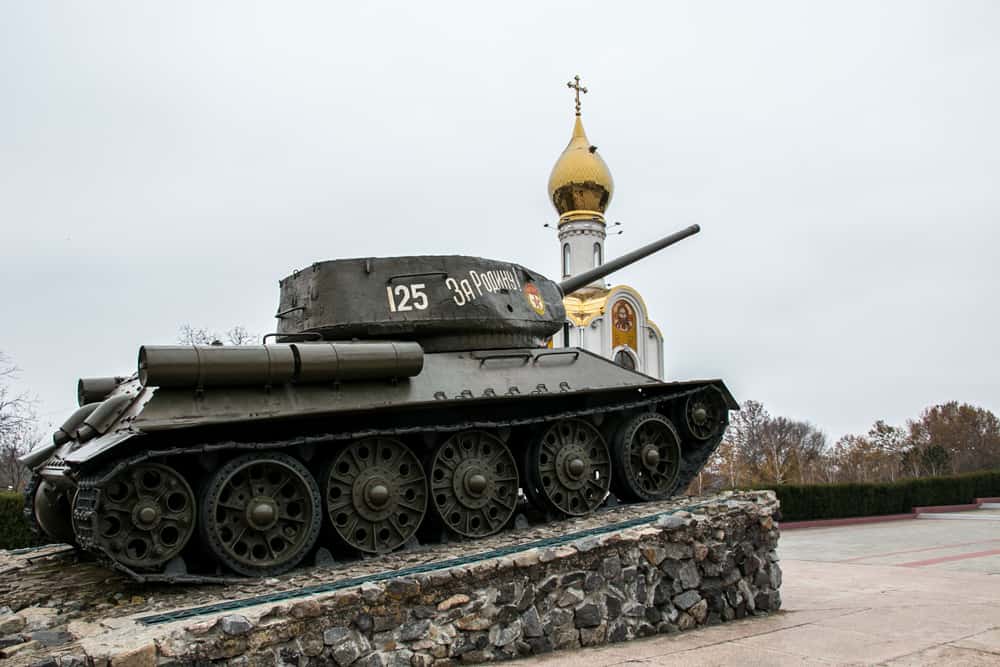 Travel to Transnistria: Getting from Chisinau to Tiraspol
In Transnistria, Moldovan is one of the official languages. The language itself is essentially Romanian but written in the Cyrillic alphabet. The same alphabet as their other official language: Russian. Thankfully I took a screenshot of the Cyrillic spelling of Tiraspol before heading to the bus station.
The Chisinau bus station is an absolute mess of chaos with a calm and collective vibe. Like in India or Latin America, it flows in a way that only locals seem to understand. Dozens of the small white buses sit in rows, their destination marked on a cardboard sign in the window. Chain smoking drivers chat in front, waiting to collect your money.
After handing the driver 37 lei ($2.15US / 1.85€), I boarded the frosty bus. I assume for cost-saving reasons, even in these freezing November mornings, they won't idle the buses for warmth. The windows are frosted near-opaque from the breath of the patient, shivering passengers.
Crossing the Border
We arrive at the border station two hours later, where all international visitors must enter and receive their travel permit. Because Transnistria isn't officially a country, you do not receive a passport stamp. Instead, you'll need to answer a few basic questions about your visit, mostly regarding your reason and duration of stay. Day permits are valid for 10 hours, while 24-hour permits are issued if you have a hotel booked – just be sure to have the confirmation with you. Keep your travel permit safe, you'll need this to exit the country.
The border is also patrolled by Russian 'peacekeepers.' Do Not take any photos here. Unless you're fluent in Russian, you're going to have a difficult time explaining that you're just a silly tourist who likes taking photos of military installations.
Things to Do in Transnistria
As I only had one free day to visit the country, I made Tiraspol the focus of my visit. Although there are actually five main departments in this tiny country, most of the action tends to be in the capital city. The majority of sights are conveniently located along October 25 street, the main road cutting through the city centre.
Step Back in Time
With the crisp late-autumn air keeping the sandy riverside beach deserted, I spent the majority of my time taking in the Soviet vibe. Russian and Transnistrian flags fly side by side in many places, setting a clear statement on what team they're playing for. I explored the Tomb of the Unknown Soldier, flanked by the eternal flame. An old Soviet T-34 tank is on display nearby.
Seeing the hammer and sickle and red star emblems on flags and monuments around the city was an odd sight, especially in 2018. However, it was the statues of Lenin that really took me to another time. A large bust is on display in front of the city hall, and a towering statue looks menacingly down from a monument at another government building across town.
Taking photos of these buildings is technically illegal, though I had no issues when snapping a few quick ones.
Cognac and Caviar
Ok, so it's not actually Cognac if it doesn't come from Cognac, but Transnistrian brandy is world-class. Kvint is a famous brandy distillery in Tiraspol that produces some the best quality brandy around. Although I didn't have time to book a tour for a tasting prior to arriving, I stopped in and bought myself a couple of bottles. This went really well with our already growing collection of Moldovan Wines back in Chisinau.
Transnistria is also well-known for their high quality, and sustainable caviar! Now, while caviar is rarely associated with being sustainable, a producer here has found another way. Traditionally, caviar is harvested from the sturgeon after the fish is killed. Yet these clever folks found a way to do so without taking such extreme measures. And by extracting the eggs without actually killing the fish, you end up with a high-quality caviar at a fraction of the typical price.
I picked up a half litre of Kvint brandy and an ounce of Caviar for a little under $16!
Eating in Tiraspol
Although I wasn't able to explore the food scene as much as I'd have liked, I did have an incredibly delicious lunch at an upscale place called Mafia.
This is one of those restaurants that has everything from roasted and grilled meats and burgers to pizza, sushi and ramen. Typically when a spot tries to do a little of everything, the quality tends to lack, and I tend to stay clear. However, Mafia came recommended by a local I met while walking into town from the train station.
I had a light lunch of perfectly seasoned mushroom soup and a tasty salad that came with a selection of bread and a glass of juice. I ordered a pint of their house lager as well, and the whole thing came out to a little under 60 rubles ($3.70 / 3.25€). For only a couple dollars more, you could easily get a full-sized meal, and the quality was spot on.
Moldovan chain restaurants Andy's Pizza and La Placinta, have several locations around Tiraspol as well, and are both great options with a pretty decent variety. Andy's has a much more western oriented menu, while the other option focuses on traditional Moldovan and Romanian cuisine. Aside from that, small shops, bakeries, and food carts can be found throughout the centre of the city.
Transnistrian Currency
The currency in Transnistria is the Transnistrian Ruble and is the only form of money accepted. There are several money changers at the train station and across Tiraspol and take Moldovan lei, euros, US dollars, Russian rubles and Ukranian hryvnia. Although foreign credit cards are not accepted at most businesses, ATM's are widespread, though are attached to the Russian system and only dispense Russian rubles, which you'll then have to exchange.
To find the official exchange rates, visit the Transnistrian Republican Bank. Also, make sure to exchange all of your remaining money before you leave, as it will be rendered entirely useless outside Transnistria.
Heading Back to Chisinau
The process is essentially the same to get back to Moldova as it was leaving, though the station is relatively quiet in Tiraspol. Purchase a ticket from the booth inside the train station, which for some reason costs more than the trip in, and find your bus number.
At the Bendery crossing, a guard simply boarded the bus to check my passport and take back my travel permit. No words were exchanged at all.
Is Transnistria Safe
While I'd read some stories prior to visiting that had me slightly concerned, everything was fine during my visit. The few people I spoke to were all very kind and helpful, mostly curious about my reasons for visiting and asking if I liked it.
Visiting from Moldova should bring no real issues, at least when crossing the border is concerned. Any problems I'd read about were from several years ago. Then again, perhaps I just got lucky.
Keep in mind that taking photos of some government buildings and monuments is technically against the rules. I've heard of people being arrested and held for questioning by the KGB in town, though as I mentioned above, nobody said anything when I took any pictures.
There are a couple of things to keep in mind, however, that could be problematic. First, medical care is sketchy at best in Transnistria, and even with travel insurance, you may not be covered here. Secondly, as the country is not recognized internationally, your home country will not likely have any diplomatic relations. If something does go wrong, whether you get in legal trouble or something worse, your government won't be able to help you.
Why go?
Transnistria, especially Tiraspol, is like a living museum to an era long passed. I've done my best to avoid the cliche: "It's like going back in time," but in many ways it truly is. While signs of modernity are popping up everywhere, funded mostly by Russia, it's still very much a time capsule to the days of the Soviet Union.
At the very least, being able to say you've visited a country that some say doesn't exist is pretty cool too.
Like It? Pin It!