Before arriving in Transylvania, I pictured dense forests, and tall, rugged mountains, topped with menacing castles. And while those cliches are absolutely present, the idea of a large, bustling city like Cluj is certainly not what I had expected. Arriving in the city at the end of our busy road trip through Maramures, we had few clues on what to do in Cluj, but we would soon find out!
Cluj-Napoca, as it's known in a more official sense, is the second largest city in Romania – after Bucharest. While at first glance, the city might not physically stand out as some of the more famous towns in Transylvania, Cluj is a proper city and definitely worth the attention.
As a university town, Cluj is bursting with culture – both old world and new – and a young energy bringing a fresh vibrance to this centuries-old city. Full of chic cafes, high-end restaurants, and stunning architecture; the capital of Transylvania should not be missed when visiting Romania. Here are our favourite sights, restaurants, and things to do in Cluj.
This post may contain affiliate links. We receive a small commission when you click them or any purchases you make. It doesn't cost you anything extra, and we only ever recommend products and services that we stand behind. Read more in our Affiliate Disclosure
What to Do in Cluj-Napoca
Take in the Unique Blend of Architecture
With a long history of occupants, dating back to the Roman Empire, the city is filled with many styles of eye-catching architecture. With the majority being found centred around the Old Town, you won't need to wander far to check out some of the most impressive buildings.
St Michaels Church
Arguably the most notable building in Cluj, St. Michaels Church is a dramatic structure overlooking Avram Iancu Square in the centre of town. Standing at a full height of nearly 80 metres, it's the second largest church in Romania, after the Black Church of Brasov.
Beginning in the early 14th century, initial construction lasted until the mid-15th and modifications continued throughout the centuries. One of the strange oddities of the exterior – and a nightmare for those suffering from OCD – are the layout of the gothic arches in comparison with the doorways. These are an unfortunate result of lack of funding during construction and the decision to change the design mid-way.
While here, have a close look, a little higher up on the south-facing wall. See if you can find the Ottoman cannonball that has remained embedded here since a long-ago battle!
The Orthodox Cathedral
Churches of the Eastern Orthodox style are absolutely stunning in their unique design. In Cluj, the case is no different. Officially the "Dormition of the Theotokos Cathedral," this hulking structure appears even larger as it hugs the sidewalks on either side.
Built quite recently, in the 1920s, the cathedral was designed after the famous Hagia Sofia. One relatively interesting feature (at least to me anyway) is the imposing chandelier beneath the huge dome, supported by intricate scaffolding.
Another notable feature is the colour – or lack thereof – inside the building. The once colourful murals of the walls and ceiling are covered almost entirely of a dark film. This is a result of the longtime use of candles to light the interior. I can only imagine what it did to patrons lungs…
Be sure to check out the museum in the basement, filled with both religious and historical artifacts.
The Cluj-Napoca Opera House
Directly across the square from the Orthodox Church, you'll find the Cluj-Napoca National Theatre. This Neo-baroque style building is just another example of the contrasting architecture found throughout the city.
Much like the opera houses and theatres across Europe, the interior is a majestic sight to behold. If you're into live theatre, it's definitely worth trying to score some tickets for a show at this incredible venue.
If you'd rather just soak in the sights from afar, relax near the fountain across the street. Sit under the towering statue of local hero Avram Iancu and take in the colourful buildings in every direction.
See the Best with a Free Walking Tour
I know we preach these in almost every post, but it's for good reason. These free walking tours are arguably the best way to take in some of the best sights, but also receive a crash course in local history.
The amount of information that flows from these guide's mouths is almost staggering at times, though it's always a fantastic introduction to a new city.
Just remember, even though it's a free tour, tips are highly appreciated and often go back into the community!
You can also check out the amazing nightlife in Cluj with a Nightlife Experience Pub Crawl Tour!
Explore the Parks, Squares and Green Spaces
Cluj is also a terrific city to take in some great walks and enjoy some people watching. Whether you're looking for a cool morning walk, a comfortable spot to sip on a coffee or dare to take your chances with the paranormal. You'll find it all in Cluj.
Relax in the Cluj Botanical Gardens
Located a short distance south of the Old Town is the Alexandru Borza Botanical Garden. Spread out over fourteen hectares, this sprawling green space features over ten thousand plant species from around the world.
In addition to the vast variety of trees, flowers and vines, there are several interesting exhibits on site. There is a unique Japanese area that includes traditional buildings that seem to transport you to another time and place. As well, you'll find a Roman garden featuring some interesting ruins from the original settlement of the city.
It's open daily from 8:00 AM – 8:00 PM.
Cost of entry is only 10 lei ($2.50 / 2€) for an adult and half that for a student or child.
Wander through the Paranormal in Hoia Baciu
Shrouded in legends and mystery, this is one of the most unique spots to visit within Cluj. Though on the surface it's simply a beautiful forested area with some alluring scenery and great hiking trails, there seems to be much more going on.
Hoia Baciu is famous for its apparent paranormal activity. Over the decades, dozens of strange occurrences and UFO sightings have occurred in and around this spot. The forest itself is named after a shepherd who, along with his entire flock, disappeared upon entering. Although these days it's more of a spot for bush parties and afternoon hikes, the twisted and oddly bent tree trunks certainly suggest something is strange about this forest.
Though it's possible to get here via bus and on foot, it can be a little confusing. Your best option would be to look into getting a guided tour of the Hoia Baciu forest – preferably at night, for the best experience!
Take a Stroll through Central Park
This long strip of park sits parallel to the Someșul Mic river and makes a perfect spot for a cool morning run. We were staying at a hotel only a few minutes from here and got up early for walks here almost every day.
Head over to the pond and paddleboat with the swans or grab lunch at the Carrousel restaurant overlooking the water. Pass by and have a look at the intricate statues of the central fountain or check out the gazebo nearby. Also, the old casino building is a popular spot for events and art exhibitions. Unfortunately, it was between shows during our visit, but stopping here was highly recommended by some locals!
Take in the Sunset from Cetatuja Park
Without question, the best spot to take in a sunset is from Cetatuja Park, and is one of the most popular things to do in Cluj. High up on a hill across the river from Central Park, you'll find dozens of people lining the stone wall, from amateurs to professionals, trying to get the perfect shot.
The two easiest ways to reach Cetatuja Park from the centre of town are by walking. Cross the river, either by the footbridge on the northeast end of Central Park or on the main road a little further east. Either head straight up the steps across from the footbridge or take the longer, much easier walking path to the east.
The stairs in the area beneath the lookout do look a little sketchy after dark, though we had no issues during our visit.
Mingle with Locals in Union Square
In the heart of the Old Town under the shadow of St Michaels Cathedral, is Union Square. This bustling plaza is the energetic hub of Cluj's Old Town. Surrounded by restaurants, bars, and cafes, this is where you'll find the action.
Given its central location and open space, Union Square is often used for street food festivals, concerts, and other funky celebrations. Sip a coffee at the foot of the magnificent statue of former Hungarian King Matthias Corvinus, and check out the glass-covered excavation of the ancient city.
From the southeast corner of the square, you'll find a long pedestrian walkway with many more cafes, shops and restaurants. This busy strip will eventually bring you to the Opera House and Orthodox Cathedral mentioned above.
Things to do Around Cluj
While Cluj itself may have enough going on to keep you busy, there are a few sights worth exploring a little outside the city itself. These spots are easily accessible if you've rented your own car, but many tour companies offer day trips as well.
Hike through Turda Gorge
Turda Gorge is one of the most spectacular landscapes we encountered during our entire visit to Romania. Whether you're a hiker, photographer or nature fanatic, this is one of the best things to see near Cluj.
The best way to experience the gorge in its entirety is by following one of the hiking trails that wind above the southwest face of the canyon. The paths are well marked and range between 6 and 12 1/2 kilometres. Even the shortest route takes close to three hours, so be sure to have some good hiking shoes and enough water. Read about the whole hike here.
We definitely recommend doing the upper hike first and walking through the gorge on your return. The path along the canyon stream is relaxing and beautiful.
If you have your own vehicle, it's quite easy to get here from Cluj, and a great addition to a visit to Salina Turda. If not, there are tour companies that offer day trips to both attractions, though your time may be limited. The third option would be to take a bus from Cluj to Turda and another bus to the town of Cheia. From here it's about an hour walk to the gorge itself.
Explore the Ruins of Banffy Castle
It's no secret that Romania is famous for its castles, though the vast majority of them are almost unknown outside of the country. Though not as dramatic as some of the more well-known in Transylvania, Banffy is still entirely worth the visit.
The recently restored structure can be found on the edge of Bonţida, a small farming village north of Cluj. Wander the grounds and the castle itself, trying to imagine what it would have felt like living here centuries ago.
A popular spot for weddings and special events, Banffy Castle is also home to the Electric Castle festival. In recent years acts have included Franz Ferdinand, Fatboy Slim, Bastille, and The Prodigy!
This summer (2019) features Florence and the Machine and 30 Seconds to Mars!
Visit an Underground Amusement Park in the Turda Salt Mine
Also in Turda, just on the edge of the city, you'll find a former salt mine converted into an amusement park. Yes, you read that correctly. There is an underground amusement park in Romania.
Salina Turda is one of the most unique places we've ever visited. Caves, mines, amusement parks; sure, we've seen them. Just never all at the same time.

Deep beneath the surface, you'll encounter old mining relics and some interesting history of the mine, but the real treasure is much deeper. Descending into the massive main cavern reveals something truly unique. Mini golf, bowling lanes, billiards, a Ferris wheel and an amphitheatre are just a few of the activities you'll find in this subterranean wonderland.
With a constant temperature of around 12℃, it's a great place to escape the heat of summer or the biting cold of winter. Better yet, come here to cool down after hiking Turda Gorge!
Open Monday to Sunday 9:00 – 16:00
Adult: 30 lei
Child: 15 lei
Parking 5 lei for the day
If you don't have a car, a tour like this one is a great way to visit the area!
Relax in the Cojocna Baths
During those sweltering days in the hot summer heat, head out to the Cojocna Baths. Just 20 kilometres from Cluj, this flooded Roman salt mine is the perfect spot to cool down and relax.
The heavily salinated lake is like a little piece of the ocean, hundreds of kilometres from the coast. The water itself, given the minerals in the salt itself, has therapeutic properties and is so salty you can almost float.
There are beach chairs and umbrellas to keep out of the sun, as well as a sand pit for beach volleyball if you're into that. Several food stalls are here as well, serving everything from French fries to mititei, traditional Romanian sausages.
Buses don't run very often, so the best way to get here is either renting a car or hiring a taxi. Bla Bla Car is another great place to look for local shared rides!
Best Restaurants in Cluj-Napoca
As far as cities go, after Bucharest, Cluj probably has the biggest variety of restaurants in Romania. And being a university town, it certainly the highest concentration of cafes and coffee shops in the city centre.
Your best option when heading out for a bite to eat or a good coffee, is to head down to Union Square. Follow nearly any of the roads leading away from the square and you'll find restaurants spanning over a dozen cuisines. To keep from boring you, or at least overwhelming you with options, we will only list a few of our favourite spots in this post.
Sisters Cafe
This little spot with a laid-back, hipster vibe, is usually packed with university students deep in lively conversation. Though I didn't eat anything during my three visits to the spot, I drank many cups of their delicious coffee.
The staff are incredibly friendly and the atmosphere is energizing, in a strangely relaxing way. Sisters Cafe is about one-half block directly south of Union Square.
Q Caffe
Another spot we visited several times is Q Caffe, on the western edge of the Old Town. This place has the most phenomenal decor of any cafe we've ever seen, it's almost impossible to put it into words. This place is more of a psychedelic art gallery than a coffee shop.

As it's a few blocks away from the centre of the action, Q Caffe is a little quieter than some of the other cafes, so we figured it would be a great place to get some work done. However, we spent more time wandering around the place looking at all the fascinating art!
They have a fairly extensive drink menu, and the coffee was very good. Although they were currently working on their food menu, it wasn't out at the time we visited. If you happen to go there, let us know how it tasted!
Old and Tasty Burger
As much as we loved Romanian cuisine, given the options in Cluj, we took the opportunity to break up the routine. It had been some time since we had a burger, and Old and Tasty more than delivered! We sipped cold beer as our burgers were prepared in front of us using fresh beef and buns baked in-house daily. I went for the 'Hot as Hell' with sriracha mayo and jalapeños, while Kylee opted for their signature 'Old and Tasty.'
These were two of the best burgers we've had since leaving Canada nearly a year prior, and they were very reasonably priced. If you're a fan of burgers (and who isn't?), you'd be doing yourself a disservice to skip this restaurant while visiting Cluj.
There isn't a ton of room inside, so takeaway is typically the best option, though they usually have some pretty great tunes playing, so grab a stool if you can! Just note that they are closed on Sundays, so plan accordingly.
Marco Polo Restaurant
If you're looking for something a little more upscale without breaking the bank, head over to the Double Tree by Hilton. The recently renovated Marco Polo restaurant features a wonderful menu and near-perfect service.
We ate dinner here on a couple of occasions and sampled quite a few items as a result. Their pasta is all made in-house and the quality shows in the finished dishes. The steak with pea puree and morel mushroom sauce was a favourite of mine, as was the salmon tartare.
If you want a different vibe but the same incredible food, head downstairs to the Syndicate Lounge. It's a much darker space with a 1920's theme featuring a brilliant bar and fantastic cocktail list.
Bulgakov Cafe
This is one of our favourite restaurants in Cluj-Napoca. The menu features regional and Eastern European specialties like polenta with sheep cheese and smoked bacon, and chicken liver ragout with onions.
But don't just visit for the incredible food, the drink menu is outstanding and the overall ambiance is one of the best we experienced in the city. With five different rooms to choose from, including two outdoor garden patios, you can come and enjoy trivia nights and live music as well. Come down from Thursday to Saturday nights for the full experience when they're open until 5 am!
Treat Yourself at the Double Tree Cluj Plaza
With a fairly large range of accommodation options in the city centre, you'll have no problem finding something to suit your needs and budget. However, one that stands out to many visitors, us included, is the Double Tree City Plaza.
We had the opportunity to partner with these guys during our time in Cluj and the hotel blew us away in every way. Located directly between the Old Town and Central Park, it's within walking distance to nearly everything you'll want to see in the city itself.
We made good use of the top floor pool and gym every morning and evening, which made a great place to watch the city light up with the rising sun. As well, they have on-site massage therapists, which Kylee and I spoiled ourselves with a much-needed session!
The breakfast at the above mentioned Marco Polo restaurant was simply mind-blowing, with a vast selection of cured meats, cheeses, spiced lentils, eggs, smoked salmon, pastries and more.
While speaking with an American who frequented Cluj for business trips, he mentioned that in his opinion, the Double Tree is the best hotel in the city. Although it was the only place we stayed, we found no reason to disagree!
---
In the spirit of transparency and full disclosure to our readers: We were hosted guests of the Double Tree by Hilton City Plaza during our stay. Our opinions are entirely our own, and are in no way influenced by our aggreement with the property. Read more in our Affiliate Disclosure
---
Getting Around Cluj
Although taxis are cheap by European standards, they're a little steeper in price compared to other parts of Romania. Given the cities well-connected bus system costs only 4 RON (0.85€ / $1.00) for a two-ticket fare, this was our main choice for getting around.
If you're arriving or leaving via the International Airport, bus numbers 5 and 8 run direct between the city centre and the airport. If heading to or from the train or bus station, bus number 9 connects to and from Union Square.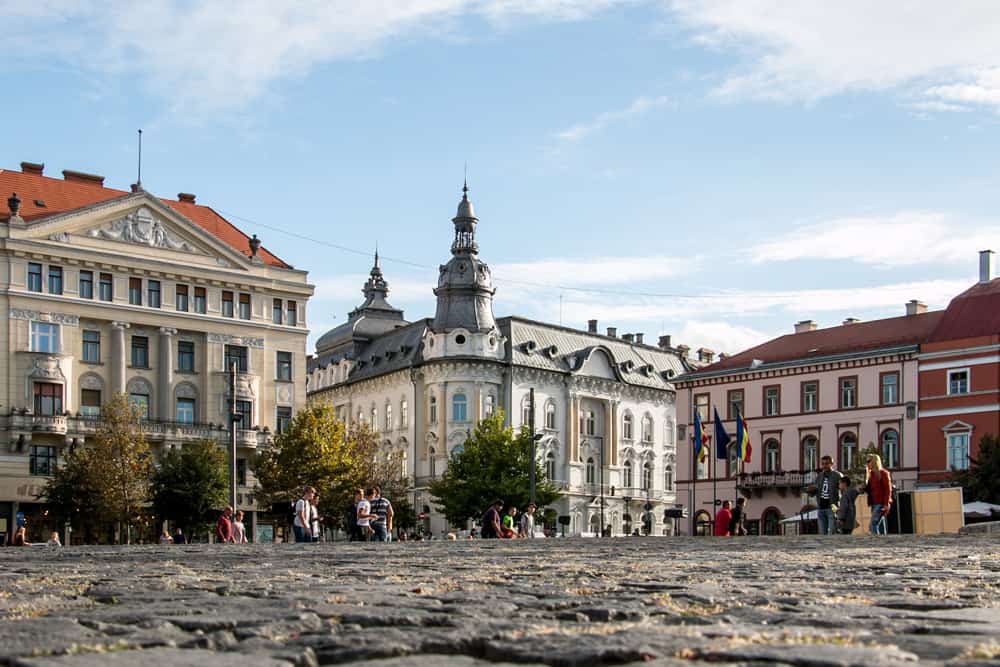 Much more Romania down here!
Like It? Pin It!