The vast majority of visitors to Romania tend to stay in the more well-known parts of the country – with Transylvania being the most popular. Although there's absolutely nothing wrong with that, as it's a spectacular region to visit, way up in the far north of the country, lies the magnificent county of Maramures – one of our favourite places to visit in Romania. Visiting the amazing Maramures area is like stepping back in time.
The entire landscape is made up of twisting valleys and rolling hills dotted with haystacks and herds of sheep. The highway is little more than a thin, two-lane road that passes through tiny little farming villages every dozen kilometres or so. Locals either spend their days working the field or sitting on benches along the roadside watching the horse-drawn carts pass by.
Due to the relative remoteness of the area and the spread out locations of the highlights, we decided on renting a car for our visit. While it's certainly possible to explore many of these spots with buses and on guided tours, the freedom of your own vehicle can make a huge difference. And considering that renting a car in Romania is surprisingly affordable, we highly recommend it!
If you don't want to rent a car, we highly recommend checking out some of these tours.
So without further ado, here are eleven wonderfully unique experiences to have in Maramures!
This post may contain affiliate links. We receive a small commission when you click them or any purchases you make. It doesn't cost you anything extra, and we only ever recommend products and services that we stand behind. Read more in our Affiliate Disclosure
Cimitirul Vesel – The Merry Cemetery
Arguably the most popular sight in Maramures, and probably the biggest reason people visit, is the Merry Cemetery. In the town of Săpânța, just a stone's throw from the Ukranian border, is one of the most unique cemeteries in possibly all of the world.
Rather than the typical cold, grey or marble tombstones and dull, metal crosses typically found throughout Europe, the people of Săpânța have taken a different approach.
Rising high above the concrete tombs, ornately carved, wooden monuments mark the graves of the dead. The markers are brightly painted in blue, with accents of yellow and red hues. Cartoonish images of the departed feature scenes from his or her life – sometimes even depicting the manner in which death occurred. Poetic epitaphs, filled with dark humour and hilarious sarcasm, are written with remembrance below.
One such inscription reads:
Underneath this heavy cross, Lies my mother-in-law poor
Had she lived three days more, I'd be here and she would read
You that are passing by, Try not to wake her up
For she comes back home, She'll bite my head off
But I'll act in the way, That she will not return
Stay here my dear, Mother-in-law.
It's such a curious and lighthearted way of looking at the inevitability of death. They have decided to celebrate the lives of the departed with uplifting monuments, instead of a constant, cold reminder of the pain. Visiting here was not only terrific for the physical beauty, but also the inspiration. The outlook of these people at how they remember their loved ones resonated for some time after we left.
How to get there
Renting a car or going with an organized tour is the best way to get here. If you are already in Sighetu Marmatiei it is only a half hour bus ride.
It is 5 Lei per person to enter, which mainly goes towards the upkeep of the church and grounds.
Check out Autogari for the local bus schedule.
Drink Brandy
Plum brandy can be found in many forms across Eastern Europe, but the region of Maramures is especially known for producing some very high-quality product.
Most locals produce this potent spirit themselves, hoarding barrels of the stuff in their cellars. The makers pride themselves on their product and are more than willing to show it off. You'll likely not have to venture far before someone will offer you a sample of their "natural" beverage.
We still aren't entirely sure why they continually refer to it as natural but assume it's because it's made from their own organic fruit, rather than produced by some factory in the city. Regardless of the meaning, it's certainly a mark of pride and a perceived selling point for the producers.
We've been offered shots in small markets at 10 am while searching for fruit, and given several more – for free – while buying beer at a local pub. One time we were given an entire bottle upon checking into a guesthouse. Apparently, it was included with the room!
You'll want to be careful though, this stuff packs a powerful punch!
Go Hiking at Lacul Albastru
Only a short drive from Baia Mare, you'll find the "Blue Lake." Lacul Albastru is a gorgeous little pool high in the hills above Baia Sprie.
From the cool early months of spring through the summer and into the autumn, the colour of the water changes quite dramatically, almost as if by magic as some locals might say. It begins as a bright, turquoise-blue, and transitions almost magically to a deep, emerald green.
Of course, there is no sorcery at play here. The pool itself was formed after the flooding of a former stone quarry. The resulting minerals in the water cause the stunning colour shift as the temperature changes throughout the seasons. Nearby, there are also several hiking trails leading further into the hills, some of which lead to some absolutely superb views over the towns below. Another point of interest nearby is the old mining ruins close by, but watch your step, it's a steep drop!
How to get there
Drive to Baia Sprie and either park at the big white church (Biserica Adormirea Maicii Domnului) and hike from there, or take the skinny steep roads up to as far as you can drive on Strada Dealul Minei.
There's also a bus from Baia Mare that takes about 30 minutes. Get off at the church mentioned above and start your hike uphill.
Download Maps.me for a decent map of the hiking trails.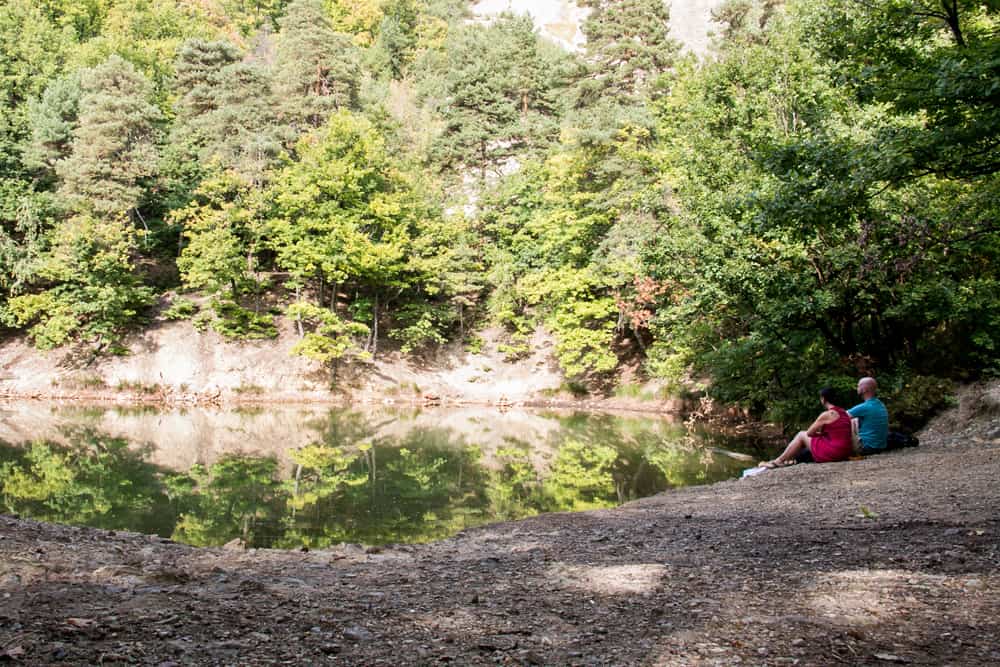 Ride an Old Romanian Steam Train
Although we didn't actually ride the train ourselves, this steam train is a wildly popular attraction with local tourists.
Originally built nearly 100 years ago, for the purpose of hauling lumber into the town of Viseu de Sus from the mountains, the train has been in constant use the entire time. As it's initial purpose was to access some of the remote wilderness in the region, it's a much smaller design, in every sense than a traditional steam train.
The old Romanian steam train is used primarily to take visitors on a round-trip tour of the area. Winding along the Vaser River, the train chugs along through mountain tunnels and over bridges into the remote wilderness high into the Carpathian mountains.
Be sure to check the official website of Viseu de Sus for the train schedule. We went on word-of-mouth and ended up missing the journey! Thankfully though, we were able to grab a couple of decent shots of the train and its route just outside of town.
Prices as of July 2019 are:
March 21 – June 2/Oct 3 – Nov 17: Adult 59 lei/ Child 39 lei
June 3 – July 14/Sept 2 – Sept 29: Adult 65 lei/Child 43 lei
July 15 – Sept 1: Adult 74 lei/Child 47 lei
Stay at Casa Relax
Accommodation in these parts is typically in the form of smaller, privately owned guesthouses. During the time we spent in the region, we based ourselves in the tiny village of Valeni, in a place called Casa Relax. Now, to be perfectly clear, we aren't being paid to say this, nor were we given any discount or offer on the room. We're simply suggesting this spot because it really was just so incredible.
It's an older building, right in the town, that has been completely upgraded inside. Big, beautiful rooms; a large, well put together communal kitchen; and a very comfortable common area/living room. The modern vibe on the inside of the house is a radical contrast to the sleepy village life outside.
There's also a fantastic patio area beneath a large pear tree, which is a perfect spot to sit and watch the sunset while the chickens and cows wander around the yard across the wire fence.  Click here to check prices at Casa Relax.
Don't forget to ask about their homecooked meals! They will bring the ingredients to your kitchen and make you a delicious meal for a small price! We had these amazing Sarmale!
Try Some Organic Romanian Honey
While driving along the roads that wind through the valleys, you'll undoubtedly cross a proud farmer selling another local specialty. Brilliantly painted bee hives can be seen dotting the fields across Maramures, keeping the crops and orchards well-pollinated. The luxurious byproduct of this necessary cycle is, of course, the sweet nectar of bees.
Honey stalls are set up at random throughout the area, much like the fruit carts you'll see elsewhere in the country. Often they're no more than a simple wooden table on the side of the road, as a quiet local calmly waits for your business.
One in particular that stands out was a larger operation on the side of the road northeast of Valeni. The same wooden table displaying the sweet, golden honey, stood near the road, but the entire bee farm was housed on a large trailer which doubled as the farmers' office. It's one of those sights that, to me at least, really defines Maramures.
Prices tend to range from about 15 – 40 RON depending on the size of the jar.
Visit Cascada Cailor – The Horses Waterfall
With no lack of beautiful scenery in Maramures, stumbling across the tallest waterfall in Romania should come as no surprise. The 90-metre high "Horses Waterfall" is one of the most beautiful in the entire Carpathian range and flows down a series of cliffs from a glacial lake at the top of the mountain.
Why is it called "Horses waterfalls"? Well, according to legend, a herd of horses became lost at the top of the mountain under a blanket of a heavy storm when they came across a large hungry bear. Because of the thick rain and fog, the horses panicked and took a collective dive over the falls, plunging to their death.
Seeing as this was in the days prior to camera phones, the accuracy of the event remains questionable to this day. But it makes a decent story at least.
Cascada Cailor can be visited throughout the year, though it's said to be at its most brilliant flow in mid-summer. For those well-experienced, canyoning over the falls is an option as well, though this should only be done with a guide.
To access the falls, head to Borsa Resort, near the town of the same name. Ride the ski lift to the top of the hill and follow the old forestry access road which leads to the bottom of the waterfall.
Eat Locally Prepared Romanian Food
Eating a home-cooked meal in the house of one of the locals is an unbeatable experience while visiting northern Romania. It's also often the closest thing to a restaurant you'll find in these smaller towns.
During our stay at Casa Relax, the meal was actually brought to us! A local woman and her young friend stopped by early one evening with a sampling of the traditional cuisine and joined us at the table to share this fantastic meal.
The Soup of Romania
First, we enjoyed tripe soup, quite possibly the most famous dish in the country. It was a light, slightly sour, yet very rich broth full of beans and garlic. We each devoured a massive bowl along with some fresh bread and butter.
Sarmale!
Next, it was the main course: Sarmale (essentially Romanian cabbage rolls), served with sour cream and sausage. This meal, quite simply, changed my life. I've always enjoyed cabbage rolls, though I've never loved them – they've always been, more or less, a decent side dish. Sarmale, on the other hand, they're a meal. Sour cabbage leaves are stuffed with a pork and rice mixture flavoured with love and the alluring essence of the gods. That or some spice blend I haven't quite cracked yet…
Mandatory Sausages
The sausages were almost falling apart. Not to be confused with mititei, the ground meat snack popular across the country, these were much more like a Ukranian kielbasa; though unlike any I've ever tasted before.
Sour Cream – More than just a condiment
Then there was the sour cream, made fresh from a nearby farm. I can't begin to describe how ridiculous this stuff was. It was tangy, almost like yogurt; very thick, more like a soft cream cheese or labneh, and almost had the mouthfeel of butter. It was unmistakably sour cream, yet so different from the mass-produced supermarket variety.
Yeah, so… Be sure to try some local food while you're here.
The Famous Wooden Churches of Maramures
Found throughout Maramures, something that cannot be missed on a visit here, are the famous, UNESCO-listed, wooden churches. These astonishing buildings are more than mere places of worship, they're works of art.
The incredible craftsmanship that goes into the construction of these churches is simply remarkable. While they resemble the familiar shape from afar, the intricate woodworking can only be appreciated up-close. It wasn't until later that we learned Maramures is renowned for its woodworking as a whole. Nearly every wooden church you'll find across Romania was likely constructed by a Maramures native.
Although they're found in some form or another in almost any town in the region, there are a few that are worth tracking down specifically. The churches in the towns of Desesti and Josani are wonderful to visit, as is the one in Breb; although the surrounding cemetery and village were almost more impressive! The convent of Manastirea Huta, high on a hillside north of Huta Certeze, is another impressive work, with some truly breathtaking views.
However, if you're really wanting to see the best of the best while in Maramures, check out Barsana Monastery below!
Check Out the Epic Barsana Monastery
We passed by this fantasy-esque monastery almost by accident while heading to Viseu de Sus to catch the steam train one afternoon. As we rounded a corner on a winding stretch of highway, the spires of these stunning wooden cathedrals towering over the trees caught our eyes.
The grounds are comprised of several astonishing wooden churches, along with several other smaller structures, a museum, and housing for the residents. The entire site appears almost like some scene from a fantasy story. It simply cannot be put into words how fascinating this place truly is.
If you're familiar with the Elder Scrolls video games, such as Oblivion or Skyrim, you'll feel as though you've been transported to some village in the mountains of Tamriel. Ok, so I'm geeking out a little here, forgive me. However, the resemblance to locations in the games is uncanny. And while I couldn't find any connection between the two, it certainly would appear that some inspiration was found here.
Village Life
Honestly, one of the best parts of our time spent in Maramures was simply slowing down. The atmosphere of this part of the country feels as though you've been transported to another time.
As we were leaving the Merry Cemetery, wandering the streets of Săpânța, we wandered past an old lady, probably in her 80's, sitting back on a bench in the sun. She was there smoking one of the fattest cigars I've ever seen, not smiling, not frowning, just totally in the moment under a thick cloud of tobacco smoke.
While staying in Valeni, we would go for an evening walk and soak up the vibe. We'd sit down on the side of the road and watch as villagers rolled in on horse-drawn wagons under the setting sun. Their faces weathered by years toiling in the fields, yet they would always smile and wave. They appeared happy – content with their lifestyle.
Moments like these are so hard to come across these days. If you find yourself in Maramures, do yourself a favour, and just stop. Leave your electronics in the room, and go for a walk through the quiet streets of one of these peaceful little towns. You'll be surprised what an impact it will have on you.
More from Romania
Like It? Pin It!